Tankless Water Heater in Downey, Illinois
Are you looking to install a tankless water heater in Downey, Illinois? Need a trustworthy heater repair contractor in Downey? Tankless water heaters, also known as on-demand water heaters, provide only as much hot water as is needed. Rather than having water sit in a tank, continually being heated and placed on "standby", on-demand systems don't start heating the water until you turn on a hot water faucet, either at the sink, or through an appliance such as a washing machine or dish washer. Because of their increased efficiency, tankless heaters save consumers money. Unheated water runs through a pipe and into the heater unit when initiated. From there, the water is heated either via gas or electricity. Because the water is heated on demand, it is capable of delivering consistent, constant hot water.
---
Call for a FREE Quote
---
Downey Tankless Water Heater Advantages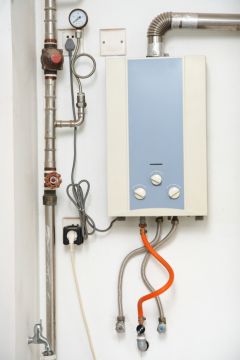 The biggest advantage of tankless water heaters is cost savings over time. On-demand units are much more energy efficient than conventional storage tank heaters. To increase heating efficiency even further, multiple heating systems can be installed, one for every hot water outlet. They can be used for bathroom additions, to boost other appliances or solar heating systems or for hot tubs and heated pools. Although the cost of purchasing and installing an on-demand unit instead of a conventional unit is a bit higher, the on-demand units tend to last longer, and cost less to operate through the years. They are also easier to repair. It is ID Mechanical Inc's experience that the advantages of installing a tankless water heater in Downey far outweigh the drawbacks.
Some of the many advantages are listed here:
Higher energy efficiency
Lower carbon footprint
Lower costs to operate
Easier and less expensive to repair
Longer lifespan than conventional tank heaters
Less wait time for hot water
Less heat loss
Tankless Water Heater Installation in Downey
When you call ID Mechanical Inc to install a demand water heater, you'll be working with an industry expert who specializes in energy efficient heating and cooling systems. We are aware that for people in Downey, heating costs are important, as are concerns with how their behaviors impact the environment. ID Mechanical Inc heating experts take pride in knowing that we can offer many solutions that are more environmentally friendly than conventional heating and cooling methods. Once such solution is installing on demand heating systems.
Why Choose ID Mechanical Inc to Install a Tankless Heater in Downey:
Written fair estimates
Many years of experience in the industry
In-depth knowledge of local building codes
Professional and careful workmanship
References available
Easy scheduling - call (847) 558-6930
Increase Downey Heating Energy Efficiency
Almost 20% of the average monthly utility bills come from heating water. There are several things you can do to reduce the water usage of your Downey residence. Some with the most impact include fixing faucet leaks, installing fixtures with low flow features and using energy-efficient appliances. For more information and ideas on decreasing your total energy consumption, call ID Mechanical Inc at (847) 558-6930 today.
---
Call for FREE Tankless Water Heater Quote
---
WHAT CUSTOMERS ARE SAYING:
5★★★★★ - "Igor very professional and timely! He came out exactly on time and did a very thorough job. Not only was he professional and competent, but he was also very informative and answered any questions that we had about our system in our house. Total lifesaver! My children will sleep warm and toasty tonight. I highly recommend the company ID Mechanical Heating & Cooling!"

Serge, Heating Systems in Grayslake, IL

2022-01-12

5★★★★★ - "ID Mechanical was very responsive to our request. Igor was personable, professional, straightforward, and changed out the motor on our air conditioner quickly. I have had him work on our heater/air conditioning units in the past and have always been happy with the service I've received. I would hire ID Mechanical anytime.
Thank you,
Nicole"

Nicole M, AC Repair in Wilmette, IL

2021-10-10

5★★★★★ - "We had a heat exchanger failure in our Carrier Infinity in January of 2021. These systems and repairs are costly and tricky. ID Mechanical diagnosed the problem, checked the warranty (saved us $$$), got the parts, and had it fixed in 24 hours, and they installed a new humidifier too since ours was coming to end in its life cycle. Great job and highly recommend."

Toly K

2021-05-25

5★★★★★ - "Quickly diagnosed our furnace, and it needed to be replaced. Answered all of our questions so we could make an informed choice on the replacement. He did a great job installing it and is reasonably priced. Overall, very happy with the experience."

Mary Z., Furnace Service / Maintenance in Palatine, IL

2019-06-12

5★★★★★ - "In a vast ocean of HVAC technicians, ID Mechanical stands far apart. Igor's professionalism and work ethic is amazing. We have had him come home on several occasions for different issues and he has never left us stranded without assistance. He takes a personal interest in fixing the problem and even makes it a point to follow up with you after the job is done. Thank you, Igor, for doing what you do."

Mohammed D., AC Maintenance in Vernon Hills, IL

2019-06-12

5★★★★★ - "Called Igor today because of his amazing reviews and he lived up to his rep. Came out and spent a good amount of time diagnosing my humidifier issue and would not quit until it was working. He knows his stuff. Super professional, skilled, honest, and nice. He's busy but I highly recommend."

Jeff H., HVAC in Vernon Hills, IL

2019-06-12

5★★★★★ - "The first couple of hot days and of course my AC broke down. I went through my warranty company and was lucky to get Igor and Id Mechanical. Not only did he come out the very next day, despite his full schedule, he was running late, yet still kept his commitment to show up the day he promised. Igor got my AC working that night and will be returning as soon as possible for adding some Freon. Great job, great follow up and excellent customer service. I plan on requesting Id Mechanical, whenever I need HVAC work done."

Michael R., AC Repair in Mundelein, IL

2019-06-12

5★★★★★ - "I had a difficult install for a humidifier. Igor took care of it like the absolute pro that he is! He went above and beyond in order to accomplish the job without exceeding the initial quoted price. Highly recommend!"

Paul V., HVAC in Palatine, IL

2019-06-12

5★★★★★ - "Great response time, excellent communication (in person and updates on arrival time), thorough check of our heating system, extremely reasonable prices, and attention to what's best for the customer - not what will make the company the most money. I highly recommend ID Mechanical."

Carol in Mundelein, IL

2018-01-16

5★★★★★ - ""I work with many contractors as part of my profession. ID Mechanical is definitely a top notch contractor. Excellent response time, very professional service, friendly, responsible, great communications skills. Always a pleasure to work with this company."

I.Groysman in Buffalo Grove, IL

5★★★★★ - "Exceptional customer service!! This company doesn't just do its job for profit, they truly care about your needs and provide thorough information and education on how everything will work prior to being hired. Excellent quality work, care and customer service!
Thank you!!"

Anna Sokolinsky in Prospect Heights, IL

5★★★★★ - "We have been using ID Mechanical for years and it's always a 5 star service. No doubt they do the best job for a reasonable price in a timely fashion. Highly recommend!"

Anonymous

2017-03-27

5★★★★★ - "I am so happy to have been recommended ID Mechanical. They are extremely professional, prompt, and do the job right the first time...at a fair and honest price. Thank you so much! There's nothing more important than the peace of mind knowing that your home is well cared for."

David Konstant in Mundelein, IL

5★★★★★ - "ID Mechanical replaced my ground floor furnace & water heater. We both were impressed with the timeliness, efficiency, accuracy, cleanliness and reasonable price. We would not hesitate to call ID Mechanical again if we'll need to do any other mechanical work. The job was really well done!"

Roman & Anna F., Hot Water Heating in Lake Forest, IL

5 ★★★★★ - "I have hired ID-Mechanical professionals many times in my home and rental properties and have always had an excellent experience. They have fixed leaking pipes, water heater issues, air conditioning issues, performed annual AC maintenance, replacement of electronic temperature control for wall AC unit, and much more. The response time was always quick and the job completed to my satisfaction. They are honest, very reasonably priced, and leave the work area clean. A 5-star rating with no hesitation!"

Vlad L. in Deerfield, IL
---
Call for FREE Tankless Water Heater Quote
---